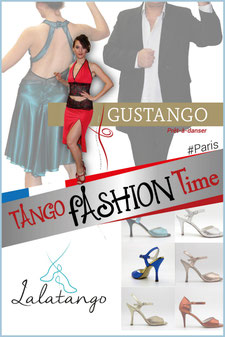 D u 8 to 10 November 2018


Tango Fashion Time #Paris

2 French designers,
2 complementary universes

for the first time in Paris
(M° Les Halles)
GUSTANGO and LALATANGO
join forces 3 days in the showroom
to show you their collections
in the heart of Paris, 5 minutes from Les Halles.
Creator of ultra-comfortable tango clothing, GUSTANGO will exhibit its Chic and Charming range, 100% made in France!
For you Tangueras, a plethora of openwork tops, slit skirts and delicate dresses. Something to satisfy all body types and all tastes. Laces, knits and refined satins are in the spotlight...
For you gentlemen, the famous Tanguero pants and their associated vests, quality and fluidity of the materials guaranteed - not to mention the collection of thermoregulated shirts!
www.gustango.fr

LALATANGO, the French brand of tango shoes, will present its women's shoes in a wide range of sizes, leathers and colors, as well as its new crossover model.
Exceptional promotions
will be reserved for you!
18 rue Dussoubs 75002 PARIS
M° Les Halles / Etienne Marcel / Réaumur-Sébastopol
Thursday, November 8: 3:30 p.m. - 8 p.m.
Friday, November 9: 11 a.m. - 9 p.m.
Saturday November 10: 11 a.m. - 7 p.m.
FREE ENTRANCE
credit card accepted