Which heel height should I choose for tango practice?
First of all, what are we talking about?

In fact there is no simple answer, because there is no norm or standard on this point. Each brand calculates its heel height as it wishes.

Look at the diagram below: we see 2 identical shoes (strictly the same height) with different heel heights, quite simply because the shape of the heel is different.

As for the diagram below, it clearly shows that, depending on how we measure the heel height, we also obtain very different results.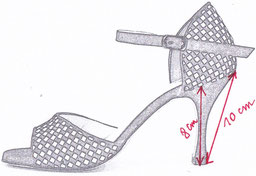 And to complicate everything, know that a heel that measures 8 cm in size 38 will barely reach 7.5 cm in 35 and exceed 8.5 cm in 42! And yes, the heel "grows" with the shoe (and that's also why making a shoe is complex).
However, whether you buy a size 35 or 42, the same heel height will be indicated.

Often, it is the height corresponding to size 37 that is given, but there is no standard, nothing obliges the brand to follow any rule, and in any case we do not know how the measurement was determined. socket.
Lalatango measures her heels from a size 37, starting from the middle of the toe (the small element that is on the ground) and going up vertically. The measurement is then rounded, in order to simplify and avoid talking about "7.1 cm" or "7.9 cm" heels for example!


You see that this heel height thing is to sleep standing up, and I suggest not to make it a fixation... It is much more important to wear shoes with good support of the arch of the foot, like the Lalatango, of which the comfort will make you forget how high you are dancing.


I often hear beginner dancers point out to me that it is not advisable to wear very high heels over time. Far from me intending to counter an opinion that would come from a health professional, but I would like to point out to them that when this advice is given, it generally applies to wearing shoes for habitual use, that is, i.e. for walking or standing.
So here, not only are we talking about dancing, but it's also about Argentine tango!
The shoe is no longer to be considered as a simple shoe but rather as technical equipment, a bit like one would consider a ski boot... for skiing.
The closed abrazo posture (milonguero style) that we take when dancing tango requires the dancer to be inclined forward. This position is simply more comfortable with heels. If you dance flat, or with low heels, you will tend to over-stress certain muscles and tendons, sometimes to the point of causing painful tendinitis in the foot - as I see in certain cases.

But another characteristic of tango makes heels even more useful: in Argentine tango, the dancer mostly "walks" backwards. Do the test in front of a mirror, lean forward and step back: thanks to high heels, you land the back of the foot more quickly, which rests the calf and its entire muscular chain and helps you maintain balance.
And when walking forward, the dancer does not plant her heel on the ground in the same way as during a classic walk. In other words, the body positions when dancing tango are not identical to those in everyday life.
The heel height most often recommended in tango is 8 cm. This is my favorite height for dancing all night.
Aesthetically, the higher the heel, the sexier the silhouette and the swaying gait.

Give yourself some time, don't hesitate to wear the shoes at home at first. Heels are mostly a matter of habit.
It is true that, whatever the height, dancing in heels causes very significant pressure on the toes and metatarsals. Lalatango shoes have been developed to reduce this pressure, thanks to these two main characteristics:

- The shape of Lalatango shoes is designed to provide optimum support for your arch. With its perfect arch, it ensures exceptional comfort for dancing tango until the end of the night!

- The Lalatango are equipped with several millimeters of an exceptional material, Poron®, an ultra-cushioning anti-pain podiatric foam which CONSIDERATELY reduces the pain caused by hours of practicing Argentine tango with numerous pivots.


Ultimately, you decide your preferred height. The important thing is that you feel comfortable dancing. You can also take it gradually!
And if you suffer from a particular injury or deformity, follow the advice of healthcare professionals.