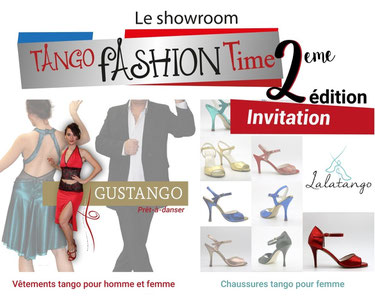 After the success of the first edition of Tango Fashion Time, GUSTANGO and LALATANGO invite you to the second 100% Tango boutique!

Take advantage of these 3 days to discover new products and take advantage of BLACK FRIDAY promotions. Also think about gift vouchers to please your loved ones.

Creator of ultra-comfortable tango clothing, GUSTANGO will exhibit its 100% French-made Chic & Fancy range!
For you Tangueras, a plethora of openwork tops, slit skirts and delicate dresses. Something to satisfy all body types and all tastes. Refined laces, knits and satins... and the high range in sequins to shine at the end of the year!
For you gentlemen, our famous Tanguero pants and their associated vests; quality and fluidity of materials guaranteed! Not forgetting the collection of shirts with temperature-regulating fabric and the new Nuevo polo shirt!
www.gustango.fr

LALATANGO, the French brand of tango shoes, will present its wide variety of colors as well as its new crossed model.
- magnificent leathers, sizes from 35 to 42 as well as half sizes for better support
- a patented anti-shock and shape-memory podiatry foam under the metatarsals for maximum comfort
- very good stability obtained thanks to the specific shape and structure of the shoe
www.lalatango.com
8 rue Pétion 75011 PARIS, M° Voltaire
Friday, November 23: 4 p.m. - 9 p.m.
Saturday November 24: 11 a.m. - 7 p.m.
Sunday November 25: 11 a.m. - 5 p.m.
FREE ENTRANCE
credit card accepted